Day Four
October 19, 1996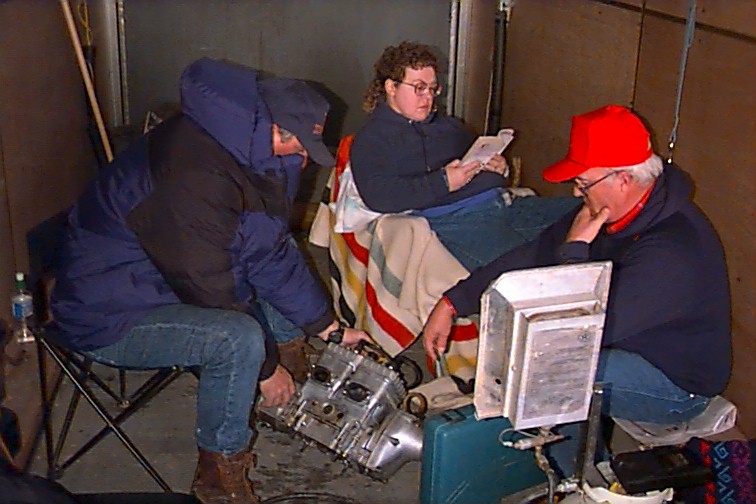 Awoke to the startings of a good storm. Overcast, moisture coming down in the form of snow. Not going anywhere today. The field is a muddy clay that is turning greasy. Jim and Errol watched the birds while Kent went back to Idaho pick up the electric fence and some motor parts. With the multiple strand electric fence we can pen the cranes, set the fence, and feel relatively assured that the birds are free from predators. Tomorrow is Sunday and more snow is expected. Maybe Monday or Tuesday.
Day Five
October 20, 1996
More snow and cold this morning. Snow flurries kept coming and going and we kept hoping to be able to move. We would uncover the planes, chip off the ice, get ready to go and then the wind change or a flurry would come in. At one point it looked clear and we drove to the top of the pass but the other side was dark and foggy. We let the birds out for a run, a short flight, and a slide on the ice at the pond. As they flew in to land on the water, the forward momentum slid them along on the ice. They were pretty surprised at not being able to settle into the water and flapped their wings wildly maintain balance.
We spent the day in the trailer crowded around the propane burner, talking, reading, and fixing things. Ron attacked the broken electric fence unit and Kent and Errol assessed the work required to get the auxiliary plane motor in shape. We all took turns finding and playing with features on the Sony digital video camera that CBS had sent. Anxious to get moving. Tomorrow looks better on the weather forecast.